On the 3rd of March, seven Russian Fighter Jets departed from Novofederocka airbase, situated in Crimea. They flew straight out over the Black Sea, towards 2 North Atlantic Treaty Organisation Warships, the U.S. guided missile cruiser Vicksburg and the Turkish warship Tugutries. Russia's government owned media described the mission as a simple reconnaissance exercise. The jets practiced the tracking of ships from a long distance while staying just on the border from which the vessels could take action and shoot back.
This sort of patrolling has become even more common since the fighting between Russia and the Ukraine emerged. Russian registered aircraft approach NATO warships and airspace and practice simulated combat manoeuvres or engage in reconnaissance. The rate of Russian Jets and Bomber patrols in the surroundings of NATO borders have tripled in just one year, but it's still below the weekly flights common during the Cold War.
https://youtu.be/K3fr02KWI_o
You shouldn't be to worried, though. To be sure, the Russian Air Force is Formidable. It's the second largest in the world, in terms of combat aircraft, with an estimate of 2,500 of which more  than 70% are in service. Unlike Russia's Navy, which has been essentially reduced to a coastal defence force, its air force is still capable and lethal by Global standards. It proudly carries the name for the world's second-largest strategic-bomber force, which is capable of delivering nuclear weapons thousands of miles from home.
But Russia's air force has several problems familiar to other different branches of the Kremlin's military. With few exceptions, its aerial fleet dates back to the Cold War and is getting even more older, and is surely in need of an upgrade. Modern and capable fighter jets are entering service, but only in small numbers. Over the long term, Russia's air force's strength is expected to fade out further.
The roots of these problems date back to the collapse of the Soviet Union in 1991. Factories producing aircraft and parts have sadly enough, shut down or became part of foreign, predominantly Ukrainian, territory. Several Engineers who are specifically experienced in building jets have immigrated or retired. Moscow put a halt to buying modern, new planes – it bought not even a single jet until 2003 — and halted the majority of it's training exercises.
Russia compared to other air forces
Russia has a lot of catching up to do with the Americans, as their technology is advancing by the day but they are still in time, as the number of problems the modern day jet fighters like the F35s are bumping in to are uncountable. The Kremlin now is considering modernizing its air force a top priority. This isn't just acquiring new, modern warplanes but also upgrading the avionics and engines on existing ones. Last year, the Russian government spent more than a billion dollars on newer avionics and electronic warfare systems, which can allow Russian jets to more effectively flood radars and enemy jets with electromagnetic energy.
Altogether, the government is planning to spend $130 billion on modernizing its air force through the rest of the decade, according to research scientist Dmitry Gorenberg's blog Russian Military Reform.
Russia's state armament program, which sets out military procurement policies through 2020, heavily emphasises relying even more on domestic manufacturing. "Such an approach is not without its own difficulties," noted OE Watch, the monthly newsletter of the U.S. Army Foreign Military Studies Office, "which the Kremlin does not publicly discuss."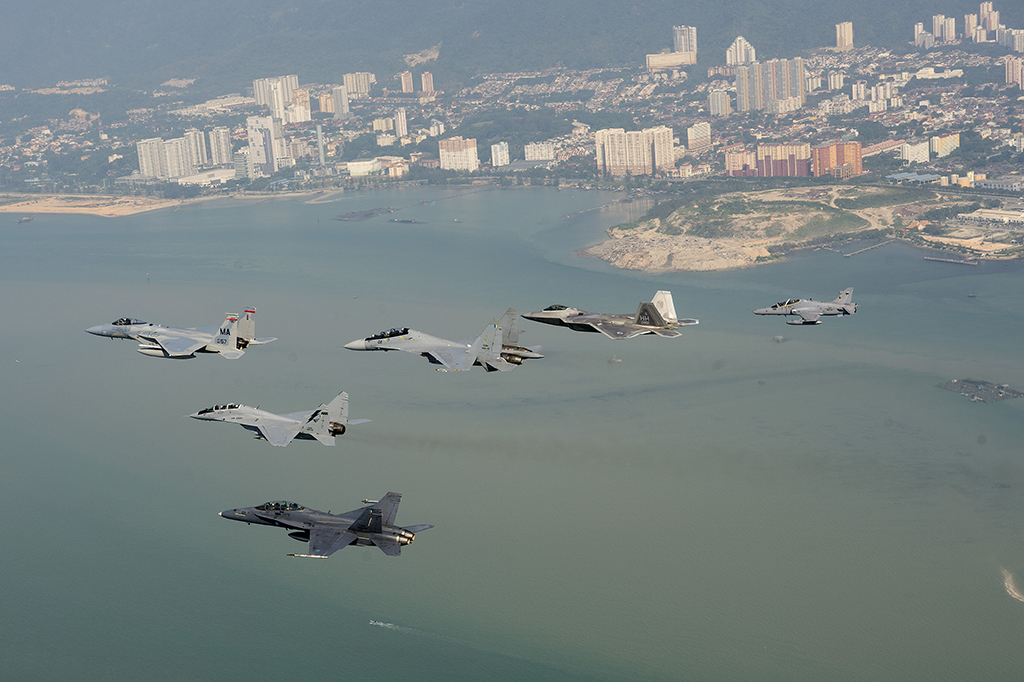 Among these problems is that Russia's domestic industry has some serious shortcomings when it comes to building microelectronics. These components are less glamorous than airframes and missiles, which Russia builds quite well, but these little pieces of technology are crucial for modern fighters. The technology enables lethal advantages like night vision and thermal imaging systems.
Building up the domestic aviation industry isn't just a job-creation program. For Moscow, it's a total necessity. A huge amount of Russian military hardware came from Ukraine until the war between the Ukrainian government and pro-Russian separatists put a finish to that.
Ukraine's state-owned military company, Ukroboronprom, for example, produced many of Russia's helicopter engines until the firm cut ties last year. Russia cannot physically produce enough engines to modernize its helicopter fleet, according to the Royal United Services Institute, a British defence research group, so most of its engines were made in Ukraine.
Russia and Ukraine co-built the An-124 heavy transport plane, which relies primarily on Ukrainian factories for more than half its parts.  One of the largest Ukrainian aviation factories that supplied parts to Russia is in Zaporizhia, in the vicinity of pro-Russian separatist territory.
The U.S. plans on building 2,400 F-35s during the next two decades, and has already started delivering them. That's on top of the U.S. Air Force's 187 operational F-22s already in service. Which means Russia's most advanced planes will be heavily outnumbered.
Meanwhile, the rest of the Kremlin's fleet will just keep getting older.
[CSSBUTTON target="http://www.migflug.com/nc/en/jet-fighter-flights/flying-with-a-jet/mig-29-fulcrum-in-russia.html?cHash=8c2a4fa123b26db07d5882a12bd1eddc&sword_list%5B0%5D=russia" color="#F22F2C"]Experience a Russian MiG-29 Fighter Jet Flight![/CSSBUTTON]
Additional Reading –
Sources –
Daily Mail
Reuters
sputniknews.com
Author – Jake Meilak